Heal Your Body and Your Life for Extraordinary Energy-Rich Living with Dr. Rose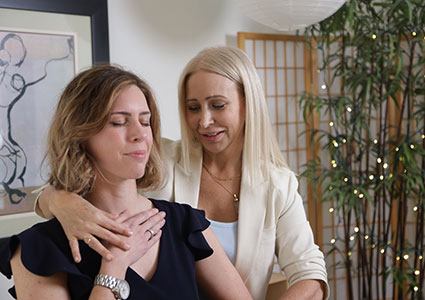 Join Austin's own Dr. Rose Mulligan of Happiness Chiropractic and Wellness for a 3 part series. You will experience and learn leading edge technologies to instantaneously shift your state of consciousness and increase your capacity for extraordinary living and healing.
Join like minded individuals as you upgrade your physical, mental and emotional bandwidth.
You will journey to Discover somatic safety and acceptance, and Transform stored or stuck energy into fuel for optimized living and Soul inspired manifestation. You will effortlessly and easily generate expansive Love frequency and Consciousness as you Awaken to the collective Spirit.
Somato Respiratory Integration (SRI), is an important, leading edge and groundbreaking technology by founder Dr. Donny Epstein who also is the founder and developer of Network Spinal.
This powerful 3 Series is for those curiously seeking MORE.
Learn effortlessly, easily and quickly how to tap into the Energetic Intelligences of The Field and the Codes of Creation to cultivate deep connection, accessible unbound energy for an extraordinary life and expanded daily living.
SRI is a series of easy to learn, precise and practical exercises, using breath, movement, and focused attention to better understand how your body has been holding on to tension from trauma and energetic stagnation that can be used more resourcefully. Your body holds the keys.
Unlock Your True Potential
Instantaneously shift your energetic frequency for vibrant and optimal life experiencing. Learn how to unlock your true potential!
These 12 simple mind-body applications are associated with long-term benefits in all areas of your life, including physical wellness, emotional state, relationships, quality of life and your ability to give and receive abundantly.
Bio: Dr. Rose, has been Serving the greater Austin area joyfully transforming lives, minds and spines since 2005. She holds a doctorate in Chiropractic, is a Level 3 Master-E Network Spinal Practitioner and Somato Respiratory Integration Wellness Educator, she is also an Applied Clinical Nutritionist, a best selling published author, sought after speaker and health and wellness enthusiast.
Testimonies
Working with Dr. Rose at Happiness has been a life-changing experience, not only do I feel and look better, but I am also able to handle stressful situations in life. Doing SRI has helped me unlock the trauma in my body and keep me in a more relaxed and confident state, greatly reducing the fear and anxiety that I used to have. I am now more welcoming of what the world has to offer. I am also able to respond to stressful situations much better, instead of reacting or even over-reacting to them. Thank you Dr. Rose for helping me unlock my true self and for leading me to a path of more freedom.

~Navin R.
The changes I have witnessed in my time with Dr. Rose have been revolutionary. My primary focus for our work is with my emotional and mental energy. So, I took time with my SRI practices that Dr. Rose teaches & WOW. I went from feeling hopeless to powerful in just a few minutes. The SRI has been one of the greatest additions I've gained in my tool belt…"

~Taraney V.
Working with Dr. Rose has been an absolute pleasure. Network Care and Somato Respiratory Integration have been tremendous for my healing journey. I feel parts of myself open up and integrate in a way I never thought possible. It's fueled a record year for me at my corporate job in enterprise software sales, my energy healing practice, and joy in everything I do. Love and gratitude for all of it.

~Rob A.

Heal Your Body and Your Life Happiness Chiropractic and Wellness | (512) 815-9815